Martin Riches: home



I have worked as an artist since 1972 and make music machines, speaking machines,
sound installations and interactive installations.
---
speaking machines

The Talking Machine (1989-1991)

An acoustic speech synthesizer. The machine is arranged like an organ, with a pipe for each speech sound. Each pipe consists of a noise-maker - a reed or whistle - and a resonator formed like the inside of a human mouth. This resonator filters the noise into a speech sound.
more about the Talking Machine including a sound recording
MotorMouth (1994-1999)

Like the Talking Machine - (see above) - MotorMouth is an acoustic speech synthesizer but it has just one voice pipe. It is a mechanical version of the human mouth with moving lips, teeth, tongue, tip of the tongue, larynx and a blower to supply the air.
more about MotorMouth
Singing Machine (2010-2013)

The vocal tract of the Singing Machine consists of a single tube with a movable tongue, with lips that can open and close and a larynx: a vibrating reed with changable pitch. It sings vowel sounds and has a range of about one octave. It is a baritone.
more about the Singing Machine
Four Voices (2016 - 2018)

Following the successs of the Singing Machine I decided to make four more somewhat simplified versions that could be spaced out and programmed as an antiphonal quartet.
more about the Four Voices
---
music machines

The Flute-playing Machine (1979-82)

A specially made alto flute programmed by felt-tip pen markings on a transparent music roll. A row of 15 photo cells read the music roll and operate the 12 keys of the flute and the valve which controls the flow of air from the blower into the mouth piece of the flute. The markings on the music roll are plainly visible to the audience before they are played.
more about the Flute Playing Machine
Percussion Installation (1981)

Eight resonators with electro-magnets beating on long metal rods. They are powered by a compact pin-ball machine mechanism, operated by the public. It was first shown in Berlin and then, in 1985-1986 in A Noise in Your Eye, an International Sound Art Exhibition
starting at the Arnolfini Gallery and then at 4 other venues in the UK.
more about the Percussion Installation
Four Piece Percussion Installation (1986)

Four wood blocks, mounted on tall stands They are powered and programmed by a central, free-standing controller in a similar way to the Flute Playing Machine, above.
more about the Four Piece Percussion Installation
24 Piece Percussion Installation (1988)

Each xylophone bar is struck by a steel bolt, faced with leather and propelled by a sharp pulse from an electro-magnet. The bars are mounted on tall stands to give them some physical presence and attached at intervals to a 100 m. long cable so they can be installed in almost any configuration.
more about the 24 Piece Percussion Installation
Ein Ton(1987)

Ein Ton is a sound installation consisting of three identical labial pipes tuned to almost the same note so that they produce beats.
more about Ein Ton
Small Clicking Machine (1986)

The Small Clicking Machine was inspired by Steve Reich's Clapping Music. The clicks are produced by rotating ratchets, similar to a carnival rattle.
more about the Small Clicking Machine
The Japanese Ladies Light Orchestra (1999) & Do it Yourself (2000)

The Japanese Ladies deserve a category of their own but here they are in amongst the music machines. Most of my music machines are played by electro-magnetic actuators driven by signals from a computer. In these performances, the actuators are human beings and the computer signals are flashes from electric light bulbs which provide the cues to strike the tubular bells.
more about the Japanese Ladies
more about Do it Yourself with a 9-voice canon by Tom Johnson.
Knock on Wood (2017-19)

Knock on Wood is an installation consisting of five groups of wood percussion instruments that play works by Tom Johnson from his suite of the same name. The instruments include woodblocks of various shapes and timbres: a cajón, Chinese temple blocks and a guiro-like instrument from Thailand in the form of a frog.
more about Knock on Wood
Serinette (2003-04)

A small automatic organ with high pitched pipes.
This is the only music machine I have built which runs without electricity.
more about the Serinette
The Thinking Machine, for Masahiro Miwa (2007)

The composer Masahiro Miwa invited me to design and build a Thinking Machine as part of his Reverse Simulation project. In this project music works are first conceived as an algorithm and run as a simulation on a computer. They are then "reverse simulated" by being performed by live players or, in this case, by a machine. The machine uses rolling balls to play three tubular bells according to an algorithm.
videos and more about the Thinking Machine

StringThing (2011-2012)

A pair of string instruments, mirror images of each other. Each has a single string: one is tuned A, 220 Hz, the other a fourth lower, E. They are played by being plucked or by being bowed by a rosined wheel. Each string is stopped by a set of 12 "fingers" giving it a range of one chromatic octave. The instruments do not have resonant bodies. Instead, the sound is amplified by a large horn.
more about StringThing
Automatic Viola (2014-2015)

In 2014, following the StringThing instruments (above), I was asked to make an automatic two-string viola using the body of a factory-made instrument.
more about the Viola
Orrery (2020)

I was invited by composer Annesley Black and percussionist / instrument maker Thomas Meixner to make an "orrery" which would serve as a conductor for a small ensemble.
more about the Orrery
---
kinetic
Walking Machines (1978)

In this project I set out to discover as many different ways of mechanical walking as possible. The inspiration came mainly from Nature but also, in some cases, from other mechanisms. In all, I made about 15 different Walking Machines with two, three, four and six legs.
more about the Walking Machines
Pas de Deux (1986)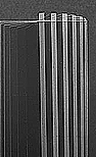 Two black and white panels, each mounted on a stepping motor, revolving and turning to and fro. They perform a pre-programmed rhythmical dance lasting about 3 minutes that explores all the possibilities: moving together, independently, smoothly, abruptly, fast, slow, left and right.
more about Pas de Deux
Interactive Field (1999-2004)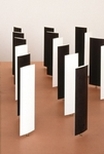 A square table. On top, 36 black and white panels that are turned by stepping motors, as in Pas de Deux (above). The movement of the panels is influenced by visitors: when people approach, sensors detect their presence and analyse their numbers, their position and their movements. The panels then performs an interactive dance.
more about Interactive Field
O-O-O-O-O (2007)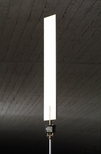 I was invited by Jens Brand to make an installation for his annual Brücken - Musik (Bridge Music) festival which took place inside the concrete beam of a bridge spanning the Rhine at Cologne. O-O-O-O-O consists of 5 rotating red and white panels mounted on tall stands and connected by a long cable ...
more about O-O-O-O-O
---
clocks
Clock exhibition (2018)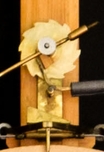 Having shown a couple of clocks at the Two Measures of Time exhibition at the Stadtgalerie Saarbrücken I was invited to exhibit more of my clocks at the Saarland Clock Museum....
more about the clock exhibition
Clock with a long pendulum (1997)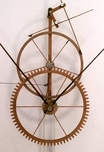 A wooden clock with a long pendulum plus some technical detail about how it was made using hand tools - rather similar to the "orrery", above.
more about the clock
A mechanical synchronome (2013)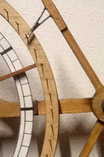 A weight-driven clock inspired by an electromagnetic Synchronome clock. This is the most accurate clock I have made so far and perhaps as good as one can expect from a clock with a wooden pendulum.
more about the mechanical Synchronome
Wooden pendulums and humidity (2020)
Clocks with wooden pendulums are affected by humidity. In dry weather they go fast, in wet weather, slow. This describes an on-going experiment to find a solution.
more about the experiment
---
other projects

Hang glider (1972)

In 1971 I visited a small private museum in Berlin dedicated to the aviation pioneer Otto Lilienthal who, in the late 19th century, made many flights with hang gliders. There was a revival of interest in hang gliding in the 1970's, (mainly in California) and I decided to build one.
more about the hang glider
Kite photography (1970's)

Another aerial project: taking photographs using kites. This was before suitable cheap motor cameras and digital photography came along and there was not yet much information available. Some of my later experiments were inspired by work that had been made in the late 19th century.
more about kite photography
Drawings

Most of my drawings are made to explain how something works or for someone's birthday and for similar occasions.
Mother Courage stage set (2004)

I was invited by director Gerhard Willert and costume designer Alexandra Pitz to design the stage set for Mother Courage and her Children, at the Landestheater, Linz, Austria.
CNC milling machine (2010)

I built this machine to cut small wooden parts more precisely than I can do it by hand. I also made a digital touch probe to go with it - a device to scan and measure three-dimensional objects. Having finished the machine I discovered some other uses for it, like calligraphy.
more about my CNC milling machine
Bicycle bearing made of wood (2014)

I was having trouble with the crank shaft bearing (bottom bracket) of my bicycle which has a late 1960's Peugeot frame. It was difficult to find spare parts so I decided to make a new bearing out of wood.
more about my wood bearing
Paddle boat (1980s)

A project I worked on and completed in the 1980s. We still take it out from time to time on the waterways of Berlin.
more about my paddle boat
Van de Graaff generator (1980s)

An electrostatic generator, recently restored. It will be used for calibration purposes.
more about the generator
The Manna Machine

In 1975 I was invited by the engineer and linguist George Sassoon to make the illustrations for his book The Manna Machine.
more about the Manna Machine

A crystal set

As a child, I made a couple of crystal set radios. Having been given some suitable components, two condensers and a germanium diode, I made another one. The photo (left) is a lead galena crystal...
more about the crystal set.
How to recycle exhibition pedestals

The installation Knock on Wood uses 8 pedestals. Since it will be shown in several venues I made them so that they could be taken apart and transported flat.
more about how to do it.
Hollingbury Court

This isn't a project - just some notes about a place where I lived as a child.
---
biography


me - boxed in
These projects have been shown at the ICA and the British Museum in London; at the Deutsche Museum in Munich; at Kiasma in Helsinki; the New York Hall of Science; at the ICC and the University of Tokyo; the Musée de Art Moderne de la Ville de Paris; the Museo Egizio in Turin; the Centre for Art and Media (ZKM) in Karlsruhe; the Galerie Gianozzo and Singuhr Galerie in Berlin and in many other places.

The music machines, speech synthesizers and sound installations have inspired many composers to write for them and so they are also presented at concerts and music festivals. They have played at the philharmonic halls of Luxembourg, Essen and Osaka; in Darmstadt and Donaueschingen; at Het Apollohuis and at many other venues, both grand and humble.



First exhibition (1973)
Haus am Kleistpark in Berlin,showing Time Signals (a sound installation), an early hang glider, a couple of clocks, aerial photography using kites and other objects reflecting my interests at the time. The show was accompanied by three concerts with Eberhard Blum, flute; Roland Pfrengle, electroacoustic music; and Helmut Krauss, speaker.

Since then, numerous exhibitions and concerts at home and abroad.
Selected exhibitions and concerts
---
catalogues

Martin Riches / Max Eastley "Two Measures of Time" (2017)

Softcover, 14 x 20 cm, 116 pages, 60 colour and 9 b/w illustrations. English and German.
Euro 18,- / CHF 22.10,-
Published by Kerber Verlag, www.kerberverlag.com

The catalogue documents the exhibition Two Measures of Time at the Stadtgalerie Saarbrücken, It includes texts by Dr. Andrea Jahn, Max Eastley and Martin Riches.

It is printed in tête-bêche format: two halves, one flipped over, with two front covers.
Martin Riches "Maskinerne / The Machines" (2004)

Hardcover, 16 x 21 cm, 96 pages, 34 colour and 24 b/w illustrations. English, German and Danish.
ISBN 978 3 936 636 46 8
Euro 28,- / Sfr.49,-
Published by Kehrer Verlag, www.kehrerverlag.com

The catalogue duplicates some of the material on this website but there are also articles by Tom Johnson, Markus Steffens and others, plus more pictures and details about some eight other projects, a proper biography and a bibliography.
---
copyright
| | |
| --- | --- |
| | All the material on this website is copyright Martin Riches and respective collaborators. Unless otherwise noted, content on this website is released under a Creative Commons-license (attribution + non-commercial + no derivative works). To see a picture credit, place your cursor on the image. |
---
contact
To send me an E-mail:

(Sorry, that is just an image - you will have to type it out.)
---