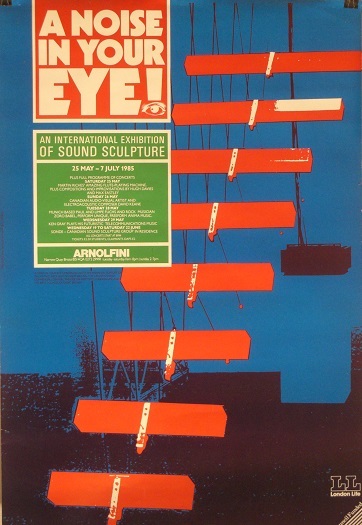 Random Percussion Installation

I was delighted to find my installation on the poster of this exhibition!
The red things are resonators that are played by pinball machine actuators. The black box on the pedestal in the background is the control system: a miniature pinball machine. It is fast asleep. If a visitor touches it, the ball rolls and the machine wakes up. The ball may trigger a "side-kicker" or a "thumper- bumper". These typical pin-ball actuators drive the ball around and play the resonators until, by chance, the ball hits a stop switch and the machine goes back to sleep again.
When I unpacked the installation I discovered the transformer had been damaged in transport. Fellow artist Max Eastley and his wife Pamela, neither of whom I had met before, very kindly drove me around Bristol to find a new transformer.