more about the 24 Piece Percussion Installation
Each xylophone bar is struck by a steel bolt, faced with leather and propelled by a sharp pulse from an electro-magnet. The bars are mounted on tall stands to give them some physical presence and attached at intervals to a 100 m. long cable so they can be installed in almost any configuration. The electronics were designed by Dipl.Ing. Gottfried Müller and, in a later version for his own interface, by the composer
Roland Pfrengle
.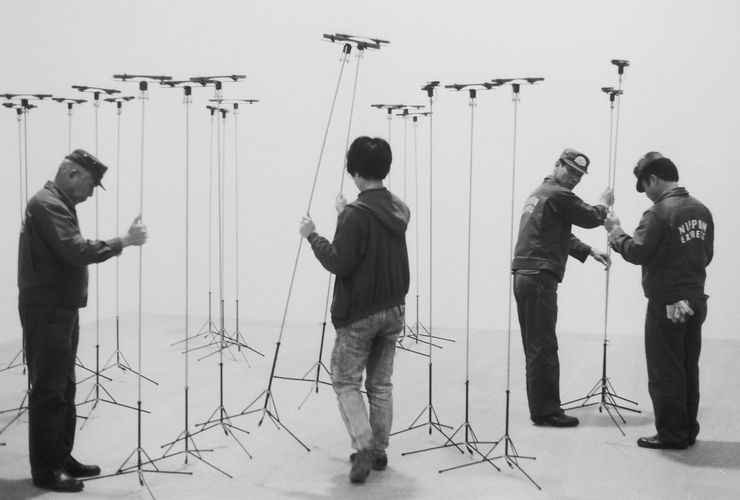 Setting up in the exhibition Man and Machine at the End of the 20th Century at Nagashima Onsen, 1992
Nippon Express not only transported the installation to Japan, they also installed it, directed here by the young man in the centre whom I know only as Hiroshi-san. The cables connecting the instruments to a micro computer were concealed under a false floor, about 8 meters square and constructed by one carpenter in about 3 hours.

This was an entirely serious exhibition but it was staged in a most unusual location. Nagashima Onsen is a spa near Nagoya. In the 1970's they were drilling for oil in this area but discovered hot water instead ... in Japan, almost unavoidable. The spa consists of a large hotel complex centred around the luxurious hot springs and a very large amusement park - the artists taking part in this show had free access to the amazing roller coasters and other rides. There were about 500,000 visitors to the exhibition in 4 months. It was organised by Shigeki Mori of the Chunichi Shimbun newspaper group.

The installation played 64 permutations according to the I Ching (1988) by Wolfram Erber.
Works by Tom Johnson

On the left is a graphical representation showing the start of the first of Tom Johnson's Eight Pieces: glissandi punctuated by chords.

In 2000 the installation was threaded up and down the two staircases of the tower of the Parochialkirche in Berlin and played Tom Johnson's Micro Miniatures.

2009 MaerzMusik / Berliner Festspiele:
Reduction, Structure, Deconstruction.
Installation with Eight Pieces by Tom Johnson.

Concert performances include:

26th October 2013
Hybrid Music Now! Festival Philharmonie Essen

9th February 2014
Hybrid Music Aichi Arts Center, Nagoya

11th February 2014
Hybrid Music Asahi Hall, Tokyo

In these concert performances the 24 instruments were arranged to surround the seated audience.