more about the serinette
A serinette is a small automatic organ.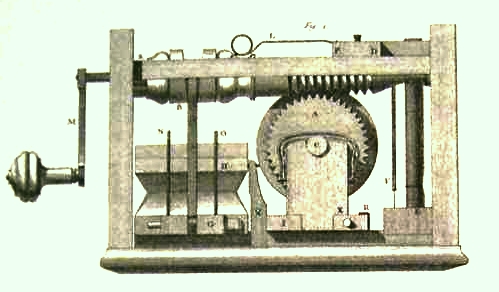 Serinettes were invented in the 18th century and played popular tunes of the day to encourage canaries (Fr.: Serin) to sing. Traditional serinettes, built from about 1750 to 1850, are housed in an enclosed protective case measuring about 30 x 20 x 15 cm.
---
my serinette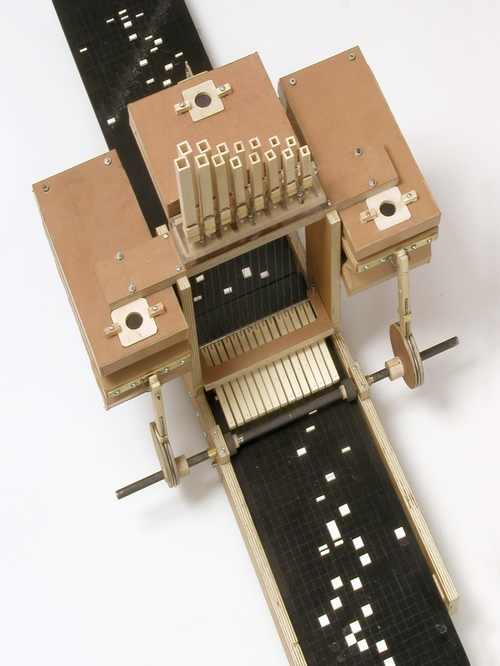 Photo: 15 pipes tuned g''' to a'''', with wind chest, claves, bellows, The program is the melody Le Bûcheron. It is about 2 metres long and consists of raised white notes glued to a black plastic sheet. It was arranged for serinette by Pere Engramelle and published in his La Tonotechnie ou l'Art de Noter les Cylindres (Paris, 1775).
My serinette is an "exploded" version intended as a louder instrument for concerts. The program and all the moving parts are clearly visible to the audience. I made the bellows capacious enough to permit polyphonic music; traditional serinettes are - like canaries - monophonic.

Left: the handle - missing from the above photo ...
It first performed in the concerts Mechanical Landscape with Bird directed by Aleksander Kolkowski and featuring the Kairos Quartett and 24 canaries (Belgian Wasserschläger and Spanish Timprados) together with their trainer, Helmut Mossman. It played canary song together with a selection of 18th century serinette melodies. They elicted an immediate response from the canaries!

Above This is a "Schokkel Burst" as sung by a Belgian Wasserschläger canary. It is one of many canary songs recorded and transcribed into musical notation by Aleks Kolkowski. Played back in the concert, it was recognised and repeated by the Wasserschläger canaries.

Close-up
showing the 3 mm high notes. The rapidly repeated short notes have sloping flanks so they can be accurately followed by the claves.
---
The concert Mechanical Landscape with Bird was comissioned by the Maerzmusik Festival - Berliner Festspiele, and premiered on 28.3.2004 at the sophiensael, Berlin, Germany.
The serinette also played in the concert
Cheep Imitatons
. It was inspired by the birds in Kolkowski's London garden. The first of several performances was given in Berlin, 2004 in Tilman Küntzel's starling project
Stare über Berlin
.