In 2004 I was invited by director Gerhard Willert and costume designer Alexandra Pitz, both of the Landestheatre Linz, to design the set for "Mother Courage and her Children":
Mutter Courage und ihre Kinder.
Bertolt Brecht, 1939. Music: Paul Dessau, 1949
The play was inspired by the Nazi invasion of Poland. It describes the misadventures of Mother Courage during the Thirty Years' War. She had hoped to make a huge profit by supplying both sides with provisions from her hand-drawn wagon but her travels were marked by a succession of disasters, including the deaths of her three children.
I hadn't seen the play. My first move was to make a conventional drawing of an 17th century wagon. I faxed it to Gerhard Willert. His reaction, according to Alexandra Pitz, was
"Spinnt er?"
. Is he nuts? Evidently something radical was called for.
Looking at previous productions I saw that, apart from the leitmotif of the covered wagon, they all played on a rather empty stage, unable to keep up with the constant changes of locale. I decided on an austerely abstract set that would step-by-step collapse, as a reflection of the dismal Courage family fortunes.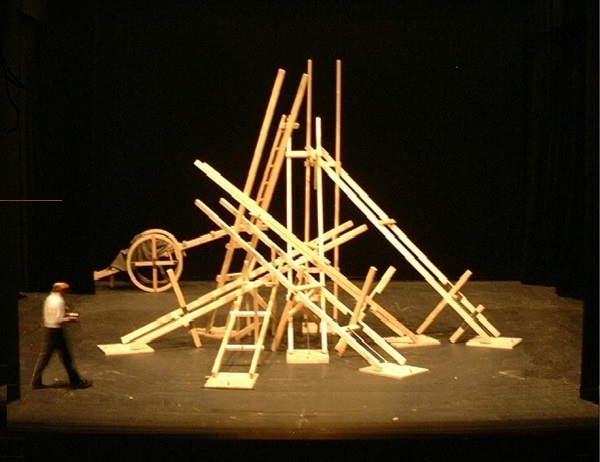 The set: just before a rehearsal of the final scene.
The opening set consisted of eight crisply vertical structures which, in the course of the action, topple over, one after the other, following each disaster. They formed a tangled, but tough and mutually-supporting wreckage that the actors could athletically clamber over, kick, abuse and aggressively demolish. Alexandra's period costumes were conceived in a similar destructive manner: they could be undone, unlaced, piece-by-piece, and slowly disintegrated into tatters.
In the final scene, Kattrin, the sole-surviving child, climbs to the summit of the wreckage, as seen in the photo above. (In the original text she climbs onto the roof of a farmhouse.) She beats furiously on a drum and alarms the city of Halle of the approaching enemy. She is shot, falls, is caught in the framework and is finally half-dragged, half-carried, down to the ground with a ladder.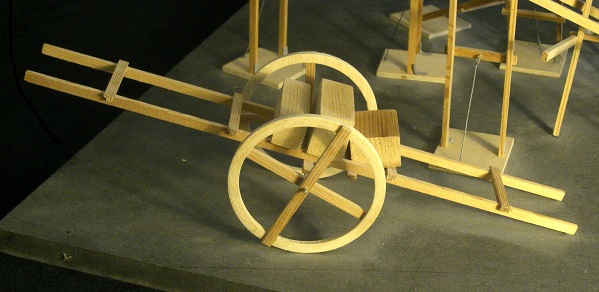 model of the wagon
The wagon had precisely the same structure and dimensions as the frames, mounted on two wheels. The entire set stood in the centre of an enormous revolving stage: When Mutter Courage hauled her wagon, ever onwards, in the opposite direction on the revolving stage, she remained front and centre, while the devastation revolved slowly behind her - a stunning spatial effect, especially when accompanied by the flash and roar of battle.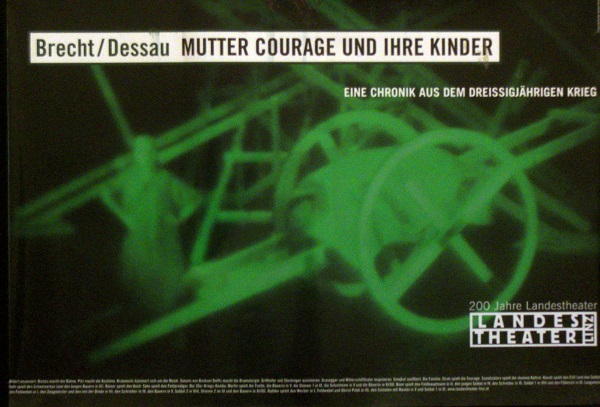 The photo on the poster was made with a military night-vision camera, thanks to the kind cooperation of the Bundesheer - Austrian Armed Forces.