A selection of exhibitions and other projects from 2007 onwards
O-O-O-O-O Installation at the Brückenmusik festival, Cologne.
Soundwaves, Kinetika Museum, group exhibition, London.
Visuelle Music, sound art exhibition and concert, Philharmonie, Luxembourg.
Klangräume Sibiu, Installation at the Art Laboratory Sibiu, Romania.
Wolfgang von Kempelen group exhibition at the Palace of Art / Műcsarnok, Budapest and ZKM Karlsruhe.
Wien Modern exhibition with Roland Pfrengle's SprachMusik (2006/08) with Natalia Psenitsnikova, alto flute & voice, Talking Machine and computer, in Vienna and also in Spannungsfelder, Darmstadt 2008.
Musica ex Machina, one man show with additional historical documents, at the Komaba Museum of the University of Tokyo.
2008
Installation in Open Space, ICC / NTT, Tokyo, 12 months to March 2009.
Guest speaker at the seminar Aesthetik der Geistlosigkeit, Leipzig.
Novembermusik Roland Pfrengle's SprachMusik (2006/08) with Lesley Olson, alto flute & voice, Talking Machine and computer, Essen.
Honourable mention from Prix Ars Electronica for the Thinking Machine in collaboration with the composer Masahiro Miwa.
Prize for the design of urban spaces around the Katherinenkirche in Hamburg in collaboration with Büro Regina Poly, landscape architects.
2009
Museumsnacht: 2 concerts with Aleks Kolkowski's Automatic Ensemble at the Leonhardskirche in Basel; and another concert at the Museum für Musikautomaten in Seewen, near Basel.
Klangmaschinen ... a radio programme produced by Nina Polschegg for SWR2, 12.2.09
Automatenliebe ... a radio programme produced by Björn Gottstein for Bayern2, 15.2.09
MaerzMusik: Reduction, Structure, Deconstruction. The 24 Piece Percussion Installation with Eight Pieces by Tom Johnson. Berliner Festspiele
Klangburg, Burg Eisenhardt, Belzig, Mark Brandenburg
Apparatus, Lydgalleriet, Bergen, Norway
All Change a flute duet by Schaun Tozer with Natalia Psenitsnikova and the Flute Playing Machine to celebrate the 5th anniversary of the Berlinische Galerie in its own building.
Thinking Machine at the Komaba Museum, University of Tokyo
building a CNC milling machine
2010
Arte Sonoro, Casa Encendida. I went to Madrid to set up the Thinking Machine. My fight was cancelled due to the Eyjafjallajökull eruption so I was frerried non-stop by two drivers from Berlin to Madrid, pausing only to pick up another artist in Paris.
My Manna Machine model was featured in the TV programme
The Evidence / Chlorella as Modern Manna / The History Channel (USA).

I designed and built the model based on a flow-chart in the book The Manna Machine (1976), by George Sassoon and Rodney Dale, for which I also designed and drew the illustrations.
Ogaki Media Festival / IAMAS, Japan, Thinking Machine
Motoren, oqbo galerie, Berlin, O-O-O-O-O
Singing Machine prototype with Yu Matsumoto & Yuichi Takahashi at IAMAS, Japan.
2011
SoundART exhibition, Cologne, German Sound Art prize nominees.
built a second version of the Singing Machine and started on the third version.
2012
SuperBodies Hasselt, Belgium, Walking Machines with video
SoundSeeing Kloster Gravenhorst, Ein Ton and the Talking Machine
Elektroakustische Musik Hoeren a talk, with videos and recordings,
at the the Technical University Berlin, with Roland Pfrengle.
building StringThing
Concert with Automatic Instruments at the Deutsches Museum, Munich.
including StringThing with works by Roland Pfrengle and Makiko Nishikaze.
2013
Internet & Society, 34th Kirchentag of the German Evangelical Church
at the CHH Congress Centre, Hamburg.
The Singing Machine sang the hymn Ut Queant Laxis, followed by a demonstration of acoustic speech synthesis techniques.
The Inauthenticity and Uncanniness of Speaking, a radio programme produced by Ingo Kottkamp and Inke Arns for DeutschlandRadio Kultur. Artists' perspectives on the human voice. I demonstrated the Talking Machine and the Singing Machine.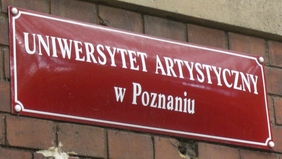 A two-day installation: StringThing with the duet Things for Things by Makiko Nishikaze at the Galeria Naprzeciw in Poznań. The two instruments were sited in two adjacent but separate spaces overlooking a courtyard next to a park at the Arts University so that the music blended with ambient sounds, bird song, etc. We were fortunate to have perfect weather and both Makiko's music and my installation were very well received.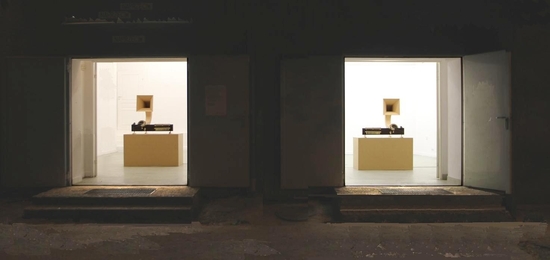 The two StringThing instruments looking out at the courtyard in Poznań.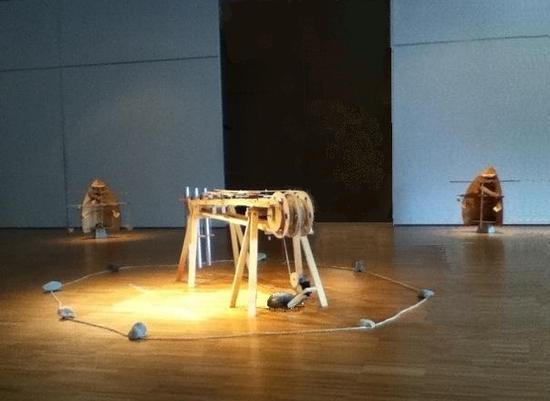 The Thinking Machine in Gifu, Japan, with two of Masahiro's Matarisama Dolls.
10th - 14th October
The Thinking Machine was shown as the central feature of the exhibiton about Masahiro Miwa's Reverse Simulation Music at the Gifu Prefectural Museum of Art, Japan
20th October
Interview on motherboard with Nadja Sayej, a Berlin-based journalist who writes for The New York Times and other media.
26th October
Hybrid Music Now! Festival Philharmonie Essen ... also 2014 in Japan.
The 24 Piece Percussion Installation, Flute Playing Machine, Singing Machine,
Talking Machine, StringThing, etc. with the Chamber Ensemble for New Music (KNM, soloists and conductor Titus Engel with computers, live electronics,
and video projection.
Works by Roland Pfrengle,Tom Johnson, Schaun Tozer, Dirk Reith, Günter Steinke,
Thomas Neuhaus and Masahiro Miwa.

A good audience ... they loved it!
Now we are getting ready for two concerts in Japan early next year.
2014
4th February
While preparing for the concerts I set up and demonstrated some of the machines in the foyer of the Aichi Arts Center and also gave a lecture about my work - sponsored by the Ministry of Culture :-).


9th February
Hybrid Music in Japan
at the Aichi Arts Center, Nagoya


11th February
Hybrid Music Asahi Hall, Tokyo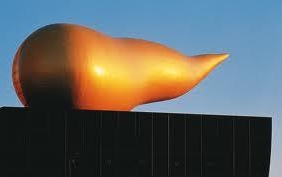 The
Flamme d'Or
on the roof of

Philipp Starck's
Asahi Hall
Tokyo

Both concerts in Japan sold out -
here is an online report.
15th March
I got a nice email from Linz to tell me that I had been nominated for the Golden Nica for Visionary Pioneers of Media Art, a new award at Prix Ars Electronica. Very flattering but to put things in perspective emails also went out to 150 other nominees.

Later: Roy Ascott (UK) got it! - a "pioneer of telematic art and a visionary thinker"



8th November
Suntory Foundation for the Arts TRANSMUSIC 2014
featuring Masahiro Miwa as the theme composer.
Izumi Hall, Osaka
My Singing Machine and Ein Ton sound installation again performed the work
hitonokiesari (people vanish), - the recital of a poem by Sadakazu Fujii with the Izumi Sinfonietta Osaka Ensemble.

The programme also included Im Januar am Nil (1984) by Clarence Barlow (#6) whom I last met in 2007. Photo: a drink-up after the concert with composers, soloists and friends.


8th - 12th December

Prof. Andreas Oldörp invited me to give a talk and a workshop in his department for Sound Art at the Hochschule für Bildende Kunst (HBKsaar) in Saarbrücken. A most enjoyable visit!

2015
6th May
The Automatic Viola had its first outing at the salon of Alexander Ochs in Berlin accompanying Jon Rose (violin): Hollis Taylor (violin): Shasta Ellenborgen (viola): Nora Krahl (cello): Meinrad Kneer (double bass).
Photo of a prototype bowing mechanism. It has similarities to my StringThing but has improved electronics designed and built by Sukandar Kartadinata to provide a softer movement of the fingers and a more sensitive pressure on the bow-wheels.


May 2015
I am now starting on Four Singing Voices in the range tenor to bass. Based on experience gained with my Singing Machine ... but there are some other ideas I want to try, like quieter blowers.


Also, (in between times and just for fun) a long wheel-base recumbent bicycle with underseat steering
This is generally considered an outmoded configuration because of its large turning circle, but I like the laid-back look. Not something I want to ride in heavy traffic.

More about this project when it is finished.
2016
11th to 13th May


I took part in The Art of Voice Synthesis conference and a concert at Het Orgelpark organised by the University of Amsterdam.

Vocalist Ute Wassermann performed her work pneuma with my Talking Machine and the Singing Machine performed the last three (solo) verses of hitonokiesari. The accompanying drone was supplied by one of the several Orgelpark organs.

The concert was attended by an enthusiastic audience; a mix of members of the public and experts from the conference.

In the interval the audience came onto the stage and I gave close-up demonstrations of my instruments, including MotorMouth,(left), on loan from the Berlinische Galerie.



16th September to 8th January 2017


Stadtgalerie - the municipal gallery
in Saarbrücken, Germany.

The gallery has a 25-year history of presenting Sound Art and this is the second time I have shown there. This time I was invited to take part at the suggestion of Prof. Andreas Oldörp.

I spent long periods at the gallery programming a new work Four Voices and demonstrating other works to visitors. They responded by telling their friends - a popular and successful exhibition.

I shared it with my friend and colleague Max Eastley who showed three sound installations. We are now preparing a joint bi-lingual catalogue to be published in July by Kerber Verlag.

Collectively, our exhibitions were entitled
Two Measures of Time.




4th to 12th November 2016

2017
24th June 2017


My Singing Machine was featured in a concert by the
Ensemble KNM Berlin and friends

Die Welt nach Tiepolo: ASIEN
(The World According to Tiepolo: ASIA)
at
Radialsystem Berlin.

Masahiro Miwa: hitonokiesari

Introduction and Recital of a poem by
Sadakazu Fujii for Singing Machine, Ein Ton
and nine players.




29th September to 1st November


I demonstrated
my
Four Voices and Singing Machine
in
KONTAKTE,
Biennial for Electroacoustic Music & Sound Art
at the Akademie der Künste, Berlin

The Four Voices sang a chant specially composed for them by Masahiro Miwa; this was their first performance in public.

"Tongues and tuners running up and down; lips opening and closing; vibrating vocal chords - an amazing analogue of human song: all accomplished without loudspeakers and without any form of recording."
2018
15th - 18th March


Archipel 2018, Genève, Suisse
festival des musiques d'aujourd'hui

15. 03 to 18. 03.18 Salle de l'Alhambra:
demonstration of Four Voices

18.03.18 Salle de l'Alhambra:
Masahiro Miwa: hitonokiesari
Introduction and Recital of a poem by
Sadakazu Fujii for Singing Machine, Ein Ton and nine members of the
Kammerensemble Neue Musik, Berlin (KNM)

Festival website



20th - 22nd April


UmbruchThese / Upheaval
Freehome - Artist to Artist - Berlin
Vadim Zakharow / fontaine b.
Artists: Lucio Fontana, Hermann Nitsch, Maya Attoum, Serge Stephan, Lindy Annis, Jacopo Rinaldi, Mariana Vassileva, Emmett Williams and Ann Noël, Arnold Dreyblatt, Elana Katz, Malcolm Green and Natalia Cerutti.

I showed a clock.



29th June


My contribution to the Hearable Hackathon:
a hearable made of a wire coat hanger, two sheets of card and some tape. It works fine but is rather uncomfortable :-)

hack4ears website
Frauenhofer Institute for
Digital Media Technology IDMT
Project manager: Peggy Sylopp





May - June


I had the pleasure of advising Tatiana López and Carlos Gutiérrez on their splendid Whistling Jars installation ...

Ch'ipas
iuuui uuuiiuiiuuui uuuiiiuuuiuuu iuuuu iuuuuiiiiiiiii iiiii uu u u u i

DAAD Gallery, Berlin, 10th Aug - 9th Sept.







7th July - 5th August


Saarland Clock Museum

I showed 8 clocks, drawings and other related material. Also my Singing Machine.
The museum is run by an association of clock makers, collectors and precision engineers. This was their first show of its kind (to mark the 25th anniversary of their museum) and was thought to have been highly successful so they now plan to present similar exhibitions in the future.

More about the exhibition


Museum website


2019
8th February - 23rd March


Knock on Wood - a percussion installation

Tom Johnson & Martin Riches
Control system: Manfred Fox

Circuit, centre d'art contemporain,
Lausanne http://www.circuit.li/

The first presentation of the installation; in a large, white and splendidly resonant space.

More about Knock on Wood
19th April - 30th June


Post-Opera
TENT, Witte de Withstraat 50, Rotterdam

19th April - 30th June
Open: Tue - Sun: 11:00 - 18:00

In collaboration with the annual Rotterdam Operadagen

The exhibition was curated by Kris Dittel and Jelena Novak
13th May


KONTRAKLANG New Music
Arkaoda / Berlin

with
Ute Wassermann
Pneuma for voice and Talking Machine
(2016)

and
Tomomi Adachi
How to learn to talk 2U for Talking Machine,
voice and gesture (2013)

Arkaoda is a recently opened Berlin night club, (named after a well known night club in Istanbul.)
18th and 19th May



Looking down an Ein Ton pipe
18th May
Post Opera
TENT Art Centre, Rotterdam
Symposium: Installing the Voice / Operadagen Rotterdam
It included a preview of a film about my work
by Hannah Bosma, Sergio Gridelli (camera)
and Armeno Alberts (sound)

19th May
Singing Machine: explanation and demonstration
15th - 31st August


Knock on Wood - a percussion installation
Tom Johnson & Martin Riches.
The control system is by Manfred Fox

Tabakalera
International centre for contemporary culture
Donostia / San Sebastian

1st floor Hall


16th -29th September


Structure and Sound
Curator: Yukari Fujimoto
Kyoto Seika University
Gallery Fleur
with
Minoru Sato, Atsushi Nishijima and
Akitsugu Maebayashi

I showed the Singing Machine, the Thinking Machine and a clock (left).

Sponsors:
Komaba Museum (Thinking Machine)
The Kao Foundation for Arts and Sciences
Japan Arts Council
Daiwa Anglo-Japanese Foundation
Kyoto City Tourism Association.

Open: 11:00-18:00

19th October - 21st December


A residency as Guest Professor at
Geidai, Tokyo University of the Arts,
Department of Music
to work on several projects including the
Singing Machine, Four Voices and the
Thinking Machine

I have been invited to show the results during a
production and research exhibition
Senju Art Path 2019
on Dec.14th (Sat.) -15th (Sun.)
10:00 - 18:00 at
Geidai, Senju Campus
25-1, Senju 1 chome, Adachi-ku, Tokyo
---
grants, awards, residencies
| | |
| --- | --- |
| 1982 -89 -93 | grants from the Senator for Cultural Affairs, Berlin |
| 1986 | Realisation of the project Machine Dance for the |
| | Production Technology Centre (PTZ) of the Technical University / |
| | Frauenhofer Gesellschaft, Berlin |
| 1989 | Residency at the New York Hall of Science with the project |
| | Pattern and Chaos. |
| 1999 | Interactive Art prize winner, InterCommunication Center (ICC/NTT) Tokyo |
| 2000 | Realisation of the project Hello, can you hear me? for a school for visually |
| | handicapped children in Berlin. |
| 2001 | Residency at the Hochschule für Media in Cologne awarded by the |
| | German Sound Art Prize competition. |
| 2006 | Guest at La Courbière, Estervayer-le-Lac, Switzerland. |
| | Residency with Roland Pfrengle and the Talking Machine at Tesla, Berlin. |
| 2009 | Residency at Burg Eisenhardt, Belzig, Mark Brandenburg. |
| 2010 | Residency at IAMAS, Institute for Advanced Media Arts & Sciences, |
| | Ogaki, Japan. |
| 2011-14 | Grant for Hybrid Music for Humans and Machines from the |
| | German Federal Cultural Foundation - Kulturstiftung des Bundes |
| 2016 | I was a guest at the Stadtgalerie Saarbrücken during the exhibition |
| | Two Measures of Time ... |
| 2018 | and again during the exhibition at the Saarland Clock Museum |
| 2019 | Residency at Tokyo University of the Arts, Department of Music. |
back to short biography
back to start of main page