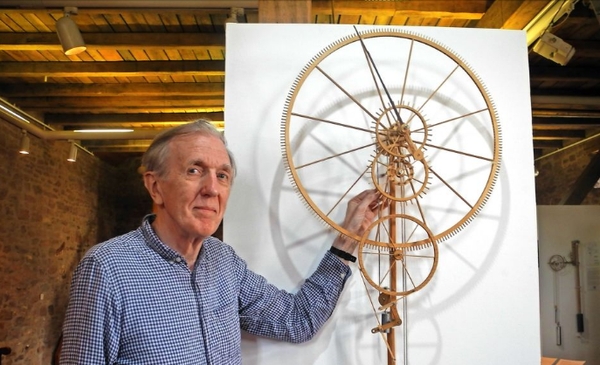 Exhibition at the Saarland Clock Museum
The Saarland Clock Museum is housed in what, for 250 years, was a clockmaker's workshop and a farmhouse. This combination of farming and clockmaking was common in the Black Forest and the Jura but rare in the Saarland - maybe because of the milder winters?
The upper floor exhibition space was divided by two rows of columns and diagonal braces; the walls are of exposed masonry. The museum is a Listed Building - so, no screws in the walls!

I suggested enclosing the columns to provide 12 panels for displaying clocks and other material.
Above: On the left is the
Singing Machine
, on the right: my work table and between them eight clocks, each mounted on its own panel, and four other panels with texts and illustrations. On the wall in the middle is a screen with a video of the
Thinking Machine
| | | |
| --- | --- | --- |
| | | View from the entrance |
| | | |
| --- | --- | --- |
| | | For me, one of the pleasures of this exhibition was listening to clear explanations of my clocks by a master clock maker, Klaus Hoffmann, which began: All clocks have four components: a driving force; a time base; an escapement and a display. |
The Singing Machine demonstrated by
Herr Hoffmann.

It sang some scales and vowel sounds and its party piece: Ut Queant Laxis


Dress note:
The exhibition ran during the 2018 heatwave. Outside temperatures were around 35°C / 95°F but it was pleasantly cool within the massive walls of the museum.
These two clocks received especially close attention.

Their pendulums turn a so-called count wheel.
Once a minute this wheel suddenly releases a mechanism to give a new impulse to the pendulum.

The interest lies in waiting for it to happen and then, over several more minutes, figuring out how it works.

The exhibition was sponsored by:


Regionalverband Saarbrücken
Regional Association Saarbrücken
Stadt Püttlingen
The town of Püttlingen
Stadtgalerie Saarbrücken
Municipal Gallery Saarbrücken
Orte der Kunst und der Kultur
Places of Art and Culture
Freundeskreis alter Uhrmacherkunst e.V.
Friends of the Ancient Art of Clockmaking
Museum website


back to biography