A Noise in Your Eye!
I was delighted to find my Percussion Installation on the poster of this exhibition.

Eight resonators with steel rods are struck by electro-magnets. The black box on the blue pedestal in the background is the control system. It contains a sleeping miniature pinball machine. If the box is tilted by a member of the public the ball will hit one of the four side-kickers, or the four thumper-bumpers. These typical pin-ball actuators trigger the resonators and the ball will continue to richochet around until, by chance, it hits a stop-switch.

When it arrived at the Arnolfini Gallery from Berlin, the transformer in the control system was found to have been damaged in transit. Fellow artist Max Eastley and his wife Pamela, neither of whom I had met before, very kindly drove me around Bristol. At our second electronics shop, we found a new transformer.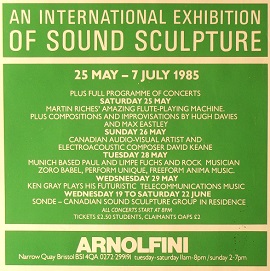 After the Arnolfini, the show travelled to the Mapin Gallery in Sheffield, the Huddersfield City Art Gallery, the Cornerhouse in Manchester and the Barbican Centre, London.